wed 12-03 It had started raining when I got to the beach yesterday. Some people were leaving so I got to park nearer the front. I waited in the car for thirty minutes until the rain was stopping and got out my orange raincoat. It was cloudy most of the time I was there, but there was no more rain, just tiny leaflets falling down on me. There weren't a lot of people in the water. Sparrows came over when I ate my bagel, so I broke off tiny bits for them. Twenty or thirty were standing there watching me, and one fluttered up and took the crumb before I could toss it. So I held out the bits on my finger, and they would hover or land on my hand one at a time to take it. They came after the rest of my bagel too, but I wouldn't give it to them.

sun 12-07 Terry and I walked down to Makawao and looked in the stores. A little boy followed an orange cat into the Hurricane store. His father came back and got him. The owner put the cat outside, and it came back in. She didn't know whose it was.

sat 12-13 At Border's we heard George Kahumoku sing about footprints in the poi.

mon 12-15 We got a two for one coupon at Hilo Hattie's, so we took the very good guided nature walk through the Iao Valley at the Hawaii Nature Center. There were only the two of us. I said Terry was a botanist, so the guide talked about the plants and trees.

tue 12-16 A last hike around Makawao with Terry and a look in Saint Joseph's.

wed 12-17 It was cold and rainy this morning. No one wanted to stand next to the open door at tai chi. Only one person was swimming outside in the pool.
Mother bought a recliner and a futon cover at a store she's been trying to get to for two years. She looked at twin beds and wants a curio cabinet she saw.

thu 12-18 From a sand dune to the moon in sixty six years, then nowhere in thirty four. The concord has stopped flying.

fri 12-19 One chameleon escaped when we cut down the dead hibiscus trees, and we rescued two others. There is an ag waste pile in the dog run that shrinks to the same size no matter how much you put on it.
We saw The Singing Christmas Tree at King's Cathedral, the big church by Home Depot, this evening. I was like the Broadway version of a christmas pagent with some stuff about Maui at the beginning and a revival show in the middle. Lots of singing and dancing and costumes and kids and lights. They used real babies.

tue 12-23 To the beach. Rain then clouds. The sun almost came out once. Most people left. I saw some whales. They were far away and didn't come up often, but I saw them a couple times while I was at the beach. I could see their spouts then backs then tails. Mostly other people would see them and they would be gone before I did. Had enough room to do my tai chi. Someone was playing a drum.

thu 12-25 There is a gecko living in my window. I saw him on the ceiling a few weeks ago, and have only seen him in the window since then. Maybe he eats tiny insects that are attracted to the light and can fit through the screen. He was missing his tail when I first saw him, and it hasn't grown much. When I come into the room at night he is on glass, then moves to the screen. I am afraid of crushing him when I close the window.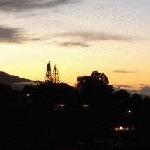 sun 12-28 I was watching a Globetrotters show about Morocco and noticed the sunset outside.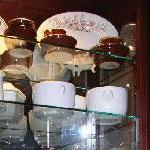 wed 12-31 Mother's new curio arrived. It was delivered in a rented truck by the sales lady and an old man. He told me how to hold it, and I helped carry it in. The door slides both ways, but only half way in either direction. It just clears the bookshelf to the right. The corner curio was moved to the corner.

nov | home | jan