Psalms
selection based on John and Saint Benedict

Two
1 Why do the nations conspire,
and the peoples plot in vain?
2 The kings of the earth set themselves,
and the rulers take counsel together,
against the LORD and his anointed, saying,
3 "Let us burst their bonds asunder,
and cast their cords from us."
4 He who sits in the heavens laughs;
the LORD has them in derision.
5 Then he will speak to them in his wrath,
and terrify them in his fury, saying,
6 "I have set my king
on Zion, my holy hill."
7 I will tell of the decree of the LORD:
He said to me, "You are my son,
today I have begotten you.
8 Ask of me, and I will make the nations your heritage,
and the ends of the earth your possession.
9 You shall break them with a rod of iron,
and dash them in pieces like a potter's vessel."
10 Now therefore, O kings, be wise;
be warned, O rulers of the earth.
11 Serve the LORD with fear,
with trembling
12 kiss his feet,
lest he be angry, and you perish in the way;
for his wrath is quickly kindled.
Blessed are all who take refuge in him.

Five
1 Give ear to my words, O LORD;
give heed to my groaning.
2 Hearken to the sound of my cry,
my King and my God,
for to thee do I pray.
3 O LORD, in the morning thou dost hear my voice;
in the morning I prepare a sacrifice for thee, and watch.
4 For thou art not a God who delights in wickedness;
evil may not sojourn with thee.
5 The boastful may not stand before thy eyes;
thou hatest all evildoers.
6 Thou destroyest those who speak lies;
the LORD abhors bloodthirsty and deceitful men.
7 But I through the abundance of thy steadfast love
will enter thy house,
I will worship toward thy holy temple
in the fear of thee.
8 Lead me, O LORD, in thy righteousness
because of my enemies;
make thy way straight before me.
9 For there is no truth in their mouth;
their heart is destruction,
their throat is an open sepulchre,
they flatter with their tongue.
10 Make them bear their guilt, O God;
let them fall by their own counsels;
because of their many transgressions cast them out,
for they have rebelled against thee.
11 But let all who take refuge in thee rejoice,
let them ever sing for joy;
and do thou defend them,
that those who love thy name may exult in thee.
12 For thou dost bless the righteous, O LORD;
thou dost cover him with favor as with a shield.

Twenty two
1 My God, my God, why hast thou forsaken me?
Why art thou so far from helping me, from the words of my groaning?
2 O my God, I cry by day, but thou dost not answer;
and by night, but find no rest.
3 Yet thou art holy,
enthroned on the praises of Israel.
4 In thee our fathers trusted;
they trusted, and thou didst deliver them.
5 To thee they cried, and were saved;
in thee they trusted, and were not disappointed.
6 But I am a worm, and no man;
scorned by men, and despised by the people.
7 All who see me mock at me,
they make mouths at me, they wag their heads;
8 "He committed his cause to the LORD; let him deliver him,
let him rescue him, for he delights in him!"
9 Yet thou art he who took me from the womb;
thou didst keep me safe upon my mother's breasts.
10 Upon thee was I cast from my birth,
and since my mother bore me thou hast been my God.
11 Be not far from me,
for trouble is near
and there is none to help.
12 Many bulls encompass me,
strong bulls of Bashan surround me;
13 they open wide their mouths at me,
like a ravening and roaring lion.
14 I am poured out like water,
and all my bones are out of joint;
my heart is like wax,
it is melted within my breast;
15 my strength is dried up like a potsherd,
and my tongue cleaves to my jaws;
thou dost lay me in the dust of death.
16 Yea, dogs are round about me;
a company of evildoers encircle me;
they have pierced my hands and feet --
17 I can count all my bones --
they stare and gloat over me;
18 they divide my garments among them,
and for my raiment they cast lots.
19 But thou, O LORD, be not far off!
O thou my help, hasten to my aid!
20 Deliver my soul from the sword,
my life from the power of the dog!
21 Save me from the mouth of the lion,
my afflicted soul from the horns of the wild oxen!
22 I will tell of thy name to my brethren;
in the midst of the congregation I will praise thee:
23 You who fear the LORD, praise him!
all you sons of Jacob, glorify him,
and stand in awe of him, all you sons of Israel!
24 For he has not despised or abhorred
the affliction of the afflicted;
and he has not hid his face from him,
but has heard, when he cried to him.
25 From thee comes my praise in the great congregation;
my vows I will pay before those who fear him.
26 The afflicted shall eat and be satisfied;
those who seek him shall praise the LORD!
May your hearts live for ever!
27 All the ends of the earth shall remember
and turn to the LORD;
and all the families of the nations
shall worship before him.
28 For dominion belongs to the LORD,
and he rules over the nations.
29 Yea, to him shall all the proud of the earth bow down;
before him shall bow all who go down to the dust,
and he who cannot keep himself alive.
30 Posterity shall serve him;
men shall tell of the Lord to the coming generation,
31 and proclaim his deliverance to a people yet unborn,
that he has wrought it.

Thirty four
1 I will bless the LORD at all times;
his praise shall continually be in my mouth.
2 My soul makes its boast in the LORD;
let the afflicted hear and be glad.
3 O magnify the LORD with me,
and let us exalt his name together!
4 I sought the LORD, and he answered me,
and delivered me from all my fears.
5 Look to him, and be radiant;
so your faces shall never be ashamed.
6 This poor man cried, and the LORD heard him,
and saved him out of all his troubles.
7 The angel of the LORD encamps
around those who fear him, and delivers them.
8 O taste and see that the LORD is good!
Happy is the man who takes refuge in him!
9 O fear the LORD, you his saints,
for those who fear him have no want!
10 The young lions suffer want and hunger;
but those who seek the LORD lack no good thing.
11 Come, O sons, listen to me,
I will teach you the fear of the LORD.
12 What man is there who desires life,
and covets many days, that he may enjoy good?
13 Keep your tongue from evil,
and your lips from speaking deceit.
14 Depart from evil, and do good;
seek peace, and pursue it.
15 The eyes of the LORD are toward the righteous,
and his ears toward their cry.
16 The face of the LORD is against evildoers,
to cut off the remembrance of them from the earth.
17 When the righteous cry for help, the LORD hears,
and delivers them out of all their troubles.
18 The LORD is near to the brokenhearted,
and saves the crushed in spirit.
19 Many are the afflictions of the righteous;
but the LORD delivers him out of them all.
20 He keeps all his bones;
not one of them is broken.
21 Evil shall slay the wicked;
and those who hate the righteous will be condemned.
22 The LORD redeems the life of his servants;
none of those who take refuge in him will be condemned.

Thirty six
1 Transgression speaks to the wicked
deep in his heart;
there is no fear of God
before his eyes.
2 For he flatters himself in his own eyes
that his iniquity cannot be found out and hated.
3 The words of his mouth are mischief and deceit;
he has ceased to act wisely and do good.
4 He plots mischief while on his bed;
he sets himself in a way that is not good;
he spurns not evil.
5 Thy steadfast love, O LORD, extends to the heavens,
thy faithfulness to the clouds.
6 Thy righteousness is like the mountains of God,
thy judgments are like the great deep;
man and beast thou savest, O LORD.
7 How precious is thy steadfast love, O God!
The children of men take refuge in the shadow of thy wings.
8 They feast on the abundance of thy house,
and thou givest them drink from the river of thy delights.
9 For with thee is the fountain of life;
in thy light do we see light.
10 O continue thy steadfast love to those who know thee,
and thy salvation to the upright of heart!
11 Let not the foot of arrogance come upon me,
nor the hand of the wicked drive me away.
12 There the evildoers lie prostrate,
they are thrust down, unable to rise.

Forty one
1 Blessed is he who considers the poor!
The LORD delivers him in the day of trouble;
2 the LORD protects him and keeps him alive;
he is called blessed in the land;
thou dost not give him up to the will of his enemies.
3 The LORD sustains him on his sickbed;
in his illness thou healest all his infirmities.
4 As for me, I said, "O LORD, be gracious to me;
heal me, for I have sinned against thee!"
5 My enemies say of me in malice:
"When will he die, and his name perish?"
6 And when one comes to see me, he utters empty words,
while his heart gathers mischief;
when he goes out, he tells it abroad.
7 All who hate me whisper together about me;
they imagine the worst for me.
8 They say, "A deadly thing has fastened upon him;
he will not rise again from where he lies."
9 Even my bosom friend in whom I trusted,
who ate of my bread, has lifted his heel against me.
10 But do thou, O LORD, be gracious to me,
and raise me up, that I may requite them!
11 By this I know that thou art pleased with me,
in that my enemy has not triumphed over me.
12 But thou hast upheld me because of my integrity,
and set me in thy presence for ever.
13 Blessed be the LORD, the God of Israel,
from everlasting to everlasting!
Amen and Amen.

Forty three
1 Vindicate me, O God, and defend my cause
against an ungodly people;
from deceitful and unjust men
deliver me!
2 For thou art the God in whom I take refuge;
why hast thou cast me off?
Why go I mourning
because of the oppression of the enemy?
3 Oh send out thy light and thy truth;
let them lead me,
let them bring me to thy holy hill
and to thy dwelling!
4 Then I will go to the altar of God,
to God my exceeding joy;
and I will praise thee with the lyre,
O God, my God.
5 Why are you cast down, O my soul,
and why are you disquieted within me?
Hope in God; for I shall again praise him,
my help and my God.

Fifty seven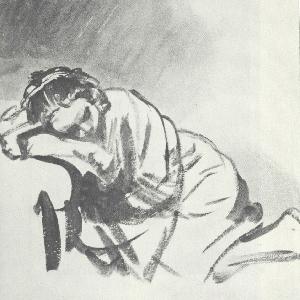 1 Be merciful to me, O God, be merciful to me,
for in thee my soul takes refuge;
in the shadow of thy wings I will take refuge,
till the storms of destruction pass by.
2 I cry to God Most High,
to God who fulfils his purpose for me.
3 He will send from heaven and save me,
he will put to shame those who trample upon me.
God will send forth his steadfast love and his faithfulness!
4 I lie in the midst of lions
that greedily devour the sons of men;
their teeth are spears and arrows,
their tongues sharp swords.
5 Be exalted, O God, above the heavens!
Let thy glory be over all the earth!
6 They set a net for my steps;
my soul was bowed down.
They dug a pit in my way,
but they have fallen into it themselves.
7 My heart is steadfast, O God,
my heart is steadfast!
I will sing and make melody!
8 Awake, my soul!
Awake, O harp and lyre!
I will awake the dawn!
9 I will give thanks to thee, O Lord, among the peoples;
I will sing praises to thee among the nations.
10 For thy steadfast love is great to the heavens,
thy faithfulness to the clouds.
11 Be exalted, O God, above the heavens!
Let thy glory be over all the earth!

Sixty three
1 O God, thou art my God, I seek thee,
my soul thirsts for thee;
my flesh faints for thee,
as in a dry and weary land where no water is.
2 So I have looked upon thee in the sanctuary,
beholding thy power and glory.
3 Because thy steadfast love is better than life,
my lips will praise thee.
4 So I will bless thee as long as I live;
I will lift up my hands and call on thy name.
5 My soul is feasted as with marrow and fat,
and my mouth praises thee with joyful lips,
6 when I think of thee upon my bed,
and meditate on thee in the watches of the night;
7 for thou hast been my help,
and in the shadow of thy wings I sing for joy.
8 My soul clings to thee;
thy right hand upholds me.
9 But those who seek to destroy my life
shall go down into the depths of the earth;
10 they shall be given over to the power of the sword,
they shall be prey for jackals.
11 But the king shall rejoice in God;
all who swear by him shall glory;
for the mouths of liars will be stopped.

Sixty four
1 Hear my voice, O God, in my complaint;
preserve my life from dread of the enemy,
2 hide me from the secret plots of the wicked,
from the scheming of evildoers,
3 who whet their tongues like swords,
who aim bitter words like arrows,
4 shooting from ambush at the blameless,
shooting at him suddenly and without fear.
5 They hold fast to their evil purpose;
they talk of laying snares secretly,
thinking, "Who can see us?
6 Who can search out our crimes?
We have thought out a cunningly conceived plot."
For the inward mind and heart of a man are deep!
7 But God will shoot his arrow at them;
they will be wounded suddenly.
8 Because of their tongue he will bring them to ruin;
all who see them will wag their heads.
9 Then all men will fear;
they will tell what God has wrought,
and ponder what he has done.
10 Let the righteous rejoice in the LORD,
and take refuge in him!
Let all the upright in heart glory!

Sixty five
1 Praise is due to thee,
O God, in Zion;
and to thee shall vows be performed,
2 O thou who hearest prayer!
To thee shall all flesh come
3 on account of sins.
When our transgressions prevail over us,
thou dost forgive them.
4 Blessed is he whom thou dost choose and bring near,
to dwell in thy courts!
We shall be satisfied with the goodness of thy house,
thy holy temple!
5 By dread deeds thou dost answer us with deliverance,
O God of our salvation,
who art the hope of all the ends of the earth,
and of the farthest seas;
6 who by thy strength hast established the mountains,
being girded with might;
7 who dost still the roaring of the seas,
the roaring of their waves,
the tumult of the peoples;
8 so that those who dwell at earth's farthest bounds
are afraid at thy signs;
thou makest the outgoings of the morning and the evening
to shout for joy.
9 Thou visitest the earth and waterest it,
thou greatly enrichest it;
the river of God is full of water;
thou providest their grain,
for so thou hast prepared it.
10 Thou waterest its furrows abundantly,
settling its ridges,
softening it with showers,
and blessing its growth.
11 Thou crownest the year with thy bounty;
the tracks of thy chariot drip with fatness.
12 The pastures of the wilderness drip,
the hills gird themselves with joy,
13 the meadows clothe themselves with flocks,
the valleys deck themselves with grain,
they shout and sing together for joy.

Sixty nine
1 Save me, O God!
For the waters have come up to my neck.
2 I sink in deep mire,
where there is no foothold;
I have come into deep waters,
and the flood sweeps over me.
3 I am weary with my crying;
my throat is parched.
My eyes grow dim
with waiting for my God.
4 More in number than the hairs of my head
are those who hate me without cause;
mighty are those who would destroy me,
those who attack me with lies.
What I did not steal
must I now restore?
5 O God, thou knowest my folly;
the wrongs I have done are not hidden from thee.
6 Let not those who hope in thee be put to shame through me,
O Lord GOD of hosts;
let not those who seek thee be brought to dishonor through me,
O God of Israel.
7 For it is for thy sake that I have borne reproach,
that shame has covered my face.
8 I have become a stranger to my brethren,
an alien to my mother's sons.
9 For zeal for thy house has consumed me,
and the insults of those who insult thee have fallen on me.
10 When I humbled my soul with fasting,
it became my reproach.
11 When I made sackcloth my clothing,
I became a byword to them.
12 I am the talk of those who sit in the gate,
and the drunkards make songs about me.
13 But as for me, my prayer is to thee, O LORD.
At an acceptable time, O God,
in the abundance of thy steadfast love answer me.
With thy faithful help
14 rescue me
from sinking in the mire;
let me be delivered from my enemies
and from the deep waters.
15 Let not the flood sweep over me,
or the deep swallow me up,
or the pit close its mouth over me.
16 Answer me, O LORD, for thy steadfast love is good;
according to thy abundant mercy, turn to me.
17 Hide not thy face from thy servant;
for I am in distress, make haste to answer me.
18 Draw near to me, redeem me,
set me free because of my enemies!
19 Thou knowest my reproach,
and my shame and my dishonor;
my foes are all known to thee.
20 Insults have broken my heart,
so that I am in despair.
I looked for pity, but there was none;
and for comforters, but I found none.
21 They gave me poison for food,
and for my thirst they gave me vinegar to drink.
22 Let their own table before them become a snare;
let their sacrificial feasts be a trap.
23 Let their eyes be darkened, so that they cannot see;
and make their loins tremble continually.
24 Pour out thy indignation upon them,
and let thy burning anger overtake them.
25 May their camp be a desolation,
let no one dwell in their tents.
26 For they persecute him whom thou hast smitten,
and him whom thou hast wounded, they afflict still more.
27 Add to them punishment upon punishment;
may they have no acquittal from thee.
28 Let them be blotted out of the book of the living;
let them not be enrolled among the righteous.
29 But I am afflicted and in pain;
let thy salvation, O God, set me on high!
30 I will praise the name of God with a song;
I will magnify him with thanksgiving.
31 This will please the LORD more than an ox
or a bull with horns and hoofs.
32 Let the oppressed see it and be glad;
you who seek God, let your hearts revive.
33 For the LORD hears the needy,
and does not despise his own that are in bonds.
34 Let heaven and earth praise him,
the seas and everything that moves therein.
35 For God will save Zion
and rebuild the cities of Judah;
and his servants shall dwell there and possess it;
36 the children of his servants shall inherit it,
and those who love his name shall dwell in it.

Seventy six
1 In Judah God is known,
his name is great in Israel.
2 His abode has been established in Salem,
his dwelling place in Zion.
3 There he broke the flashing arrows,
the shield, the sword, and the weapons of war.
4 Glorious art thou, more majestic
than the everlasting mountains.
5 The stouthearted were stripped of their spoil;
they sank into sleep;
all the men of war
were unable to use their hands.
6 At thy rebuke, O God of Jacob,
both rider and horse lay stunned.
7 But thou, terrible art thou!
Who can stand before thee
when once thy anger is roused?
8 From the heavens thou didst utter judgment;
the earth feared and was still,
9 when God arose to establish judgment
to save all the oppressed of the earth.
10 Surely the wrath of men shall praise thee;
the residue of wrath thou wilt gird upon thee.
11 Make your vows to the LORD your God, and perform them;
let all around him bring gifts
to him who is to be feared,
12 who cuts off the spirit of princes,
who is terrible to the kings of the earth.

Eighty two
1 God has taken his place in the divine council;
in the midst of the gods he holds judgment:
2 "How long will you judge unjustly
and show partiality to the wicked?
3 Give justice to the weak and the fatherless;
maintain the right of the afflicted and the destitute.
4 Rescue the weak and the needy;
deliver them from the hand of the wicked."
5 They have neither knowledge nor understanding,
they walk about in darkness;
all the foundations of the earth are shaken.
6 I say, "You are gods,
sons of the Most High, all of you;
7 nevertheless, you shall die like men,
and fall like any prince."
8 Arise, O God, judge the earth;
for to thee belong all the nations!

Eighty eight
1 O LORD, my God, I call for help by day;
I cry out in the night before thee.
2 Let my prayer come before thee,
incline thy ear to my cry!
3 For my soul is full of troubles,
and my life draws near to Sheol.
4 I am reckoned among those who go down to the Pit;
I am a man who has no strength,
5 like one forsaken among the dead,
like the slain that lie in the grave,
like those whom thou dost remember no more,
for they are cut off from thy hand.
6 Thou hast put me in the depths of the Pit,
in the regions dark and deep.
7 Thy wrath lies heavy upon me,
and thou dost overwhelm me with all thy waves.
8 Thou hast caused my companions to shun me;
thou hast made me a thing of horror to them.
I am shut in so that I cannot escape;
9 my eye grows dim through sorrow.
Every day I call upon thee, O LORD;
I spread out my hands to thee.
10 Dost thou work wonders for the dead?
Do the shades rise up to praise thee?
11 Is thy steadfast love declared in the grave,
or thy faithfulness in Abaddon?
12 Are thy wonders known in the darkness,
or thy saving help in the land of forgetfulness?
13 But I, O LORD, cry to thee;
in the morning my prayer comes before thee.
14 O LORD, why dost thou cast me off?
Why dost thou hide thy face from me?
15 Afflicted and close to death from my youth up,
I suffer thy terrors; I am helpless.
16 Thy wrath has swept over me;
thy dread assaults destroy me.
17 They surround me like a flood all day long;
they close in upon me together.
18 Thou hast caused lover and friend to shun me;
my companions are in darkness.

Ninety
1 LORD, thou hast been our dwelling place
in all generations.
2 Before the mountains were brought forth,
or ever thou hadst formed the earth and the world,
from everlasting to everlasting thou art God.
3 Thou turnest man back to the dust,
and sayest, "Turn back, O children of men!"
4 For a thousand years in thy sight
are but as yesterday when it is past,
or as a watch in the night.
5 Thou dost sweep men away; they are like a dream,
like grass which is renewed in the morning:
6 in the morning it flourishes and is renewed;
in the evening it fades and withers.
7 For we are consumed by thy anger;
by thy wrath we are overwhelmed.
8 Thou hast set our iniquities before thee,
our secret sins in the light of thy countenance.
9 For all our days pass away under thy wrath,
our years come to an end like a sigh.
10 The years of our life are threescore and ten,
or even by reason of strength fourscore;
yet their span is but toil and trouble;
they are soon gone, and we fly away.
11 Who considers the power of thy anger,
and thy wrath according to the fear of thee?
12 So teach us to number our days
that we may get a heart of wisdom.
13 Return, O LORD! How long?
Have pity on thy servants!
14 Satisfy us in the morning with thy steadfast love,
that we may rejoice and be glad all our days.
15 Make us glad as many days as thou hast afflicted us,
and as many years as we have seen evil.
16 Let thy work be manifest to thy servants,
and thy glorious power to their children.
17 Let the favor of the Lord our God be upon us,
and establish thou the work of our hands upon us,
yea, the work of our hands establish thou it.

Ninety two
1 It is good to give thanks to the LORD,
to sing praises to thy name, O Most High;
2 to declare thy steadfast love in the morning,
and thy faithfulness by night,
3 to the music of the lute and the harp,
to the melody of the lyre.
4 For thou, O LORD, hast made me glad by thy work;
at the works of thy hands I sing for joy.
5 How great are thy works, O LORD!
Thy thoughts are very deep!
6 The dull man cannot know,
the stupid cannot understand this:
7 that, though the wicked sprout like grass
and all evildoers flourish,
they are doomed to destruction for ever,
8 but thou, O LORD, art on high for ever.
9 For, lo, thy enemies, O LORD,
for, lo, thy enemies shall perish;
all evildoers shall be scattered.
10 But thou hast exalted my horn like that of the wild ox;
thou hast poured over me fresh oil.
11 My eyes have seen the downfall of my enemies,
my ears have heard the doom of my evil assailants.
12 The righteous flourish like the palm tree,
and grow like a cedar in Lebanon.
13 They are planted in the house of the LORD,
they flourish in the courts of our God.
14 They still bring forth fruit in old age,
they are ever full of sap and green,
15 to show that the LORD is upright;
he is my rock, and there is no unrighteousness in him.

One hundred four
1 Bless the LORD, O my soul!
O LORD my God, thou art very great!
Thou art clothed with honor and majesty,
2 who coverest thyself with light as with a garment,
who hast stretched out the heavens like a tent,
3 who hast laid the beams of thy chambers on the waters,
who makest the clouds thy chariot,
who ridest on the wings of the wind,
4 who makest the winds thy messengers,
fire and flame thy ministers.

5 Thou didst set the earth on its foundations,
so that it should never be shaken.
6 Thou didst cover it with the deep as with a garment;
the waters stood above the mountains.
7 At thy rebuke they fled;
at the sound of thy thunder they took to flight.
8 The mountains rose, the valleys sank down
to the place which thou didst appoint for them.
9 Thou didst set a bound which they should not pass,
so that they might not again cover the earth.
10 Thou makest springs gush forth in the valleys;
they flow between the hills,
11 they give drink to every beast of the field;
the wild asses quench their thirst.
12 By them the birds of the air have their habitation;
they sing among the branches.
13 From thy lofty abode thou waterest the mountains;
the earth is satisfied with the fruit of thy work.
14 Thou dost cause the grass to grow for the cattle,
and plants for man to cultivate,
that he may bring forth food from the earth,
15 and wine to gladden the heart of man,
oil to make his face shine,
and bread to strengthen man's heart.
16 The trees of the LORD are watered abundantly,
the cedars of Lebanon which he planted.
17 In them the birds build their nests;
the stork has her home in the fir trees.
18 The high mountains are for the wild goats;
the rocks are a refuge for the badgers.
19 Thou hast made the moon to mark the seasons;
the sun knows its time for setting.
20 Thou makest darkness, and it is night,
when all the beasts of the forest creep forth.
21 The young lions roar for their prey,
seeking their food from God.
22 When the sun rises, they get them away
and lie down in their dens.
23 Man goes forth to his work
and to his labor until the evening.
24 O LORD, how manifold are thy works!
In wisdom hast thou made them all;
the earth is full of thy creatures.
25 Yonder is the sea, great and wide,
which teems with things innumerable,
living things both small and great.
26 There go the ships,
and Leviathan which thou didst form to sport in it.
27 These all look to thee,
to give them their food in due season.
28 When thou givest to them, they gather it up;
when thou openest thy hand, they are filled with good things.
29 When thou hidest thy face, they are dismayed;
when thou takest away their breath, they die
and return to their dust.
30 When thou sendest forth thy Spirit, they are created;
and thou renewest the face of the ground.
31 May the glory of the LORD endure for ever,
may the LORD rejoice in his works,
32 who looks on the earth and it trembles,
who touches the mountains and they smoke!
33 I will sing to the LORD as long as I live;
I will sing praise to my God while I have being.
34 May my meditation be pleasing to him,
for I rejoice in the LORD.
35 Let sinners be consumed from the earth,
and let the wicked be no more!
Bless the LORD, O my soul!
Praise the LORD!

One hundred eighteen
1 O give thanks to the LORD, for he is good;
his steadfast love endures for ever!
2 Let Israel say,
"His steadfast love endures for ever."
3 Let the house of Aaron say,
"His steadfast love endures for ever."
4 Let those who fear the LORD say,
"His steadfast love endures for ever."
5 Out of my distress I called on the LORD;
the LORD answered me and set me free.
6 With the LORD on my side I do not fear.
What can man do to me?
7 The LORD is on my side to help me;
I shall look in triumph on those who hate me.
8 It is better to take refuge in the LORD
than to put confidence in man.
9 It is better to take refuge in the LORD
than to put confidence in princes.
10 All nations surrounded me;
in the name of the LORD I cut them off!
11 They surrounded me, surrounded me on every side;
in the name of the LORD I cut them off!
12 They surrounded me like bees,
they blazed like a fire of thorns;
in the name of the LORD I cut them off!
13 I was pushed hard, so that I was falling,
but the LORD helped me.
14 The LORD is my strength and my song;
he has become my salvation.
15 Hark, glad songs of victory
in the tents of the righteous:
"The right hand of the LORD does valiantly,
16 the right hand of the LORD is exalted,
the right hand of the LORD does valiantly!"
17 I shall not die, but I shall live,
and recount the deeds of the LORD.
18 The LORD has chastened me sorely,
but he has not given me over to death.
19 Open to me the gates of righteousness,
that I may enter through them
and give thanks to the LORD.
20 This is the gate of the LORD;
the righteous shall enter through it.
21 I thank thee that thou hast answered me
and hast become my salvation.
22 The stone which the builders rejected
has become the head of the corner.
23 This is the LORD's doing;
it is marvelous in our eyes.
24 This is the day which the LORD has made;
let us rejoice and be glad in it.
25 Save us, we beseech thee, O LORD!
O LORD, we beseech thee, give us success!
26 Blessed be he who enters in the name of the LORD!
We bless you from the house of the LORD.
27 The LORD is God,
and he has given us light.
Bind the festal procession with branches,
up to the horns of the altar!
28 Thou art my God, and I will give thanks to thee;
thou art my God, I will extol thee.
29 O give thanks to the LORD, for he is good;
for his steadfast love endures for ever!

One hundred forty three
1 Hear my prayer, O LORD;
give ear to my supplications!
In thy faithfulness answer me, in thy righteousness!
2 Enter not into judgment with thy servant;
for no man living is righteous before thee.
3 For the enemy has pursued me;
he has crushed my life to the ground;
he has made me sit in darkness like those long dead.
4 Therefore my spirit faints within me;
my heart within me is appalled.
5 I remember the days of old,
I meditate on all that thou hast done;
I muse on what thy hands have wrought.
6 I stretch out my hands to thee;
my soul thirsts for thee like a parched land.
7 Make haste to answer me, O LORD!
My spirit fails!
Hide not thy face from me,
lest I be like those who go down to the Pit.
8 Let me hear in the morning of thy steadfast love,
for in thee I put my trust.
Teach me the way I should go,
for to thee I lift up my soul.
9 Deliver me, O LORD, from my enemies!
I have fled to thee for refuge!
10 Teach me to do thy will,
for thou art my God!
Let thy good spirit lead me
on a level path!
11 For thy name's sake, O LORD, preserve my life!
In thy righteousness bring me out of trouble!
12 And in thy steadfast love cut off my enemies,
and destroy all my adversaries,
for I am thy servant.

One hundred forty eight
1 Praise the LORD!
Praise the LORD from the heavens,
praise him in the heights!
2 Praise him, all his angels,
praise him, all his host!
3 Praise him, sun and moon,
praise him, all you shining stars!
4 Praise him, you highest heavens,
and you waters above the heavens!
5 Let them praise the name of the LORD!
For he commanded and they were created.
6 And he established them for ever and ever;
he fixed their bounds which cannot be passed.
7 Praise the LORD from the earth,
you sea monsters and all deeps,
8 fire and hail, snow and frost,
stormy wind fulfilling his command!
9 Mountains and all hills,
fruit trees and all cedars!
10 Beasts and all cattle,
creeping things and flying birds!
11 Kings of the earth and all peoples,
princes and all rulers of the earth!
12 Young men and maidens together,
old men and children!
13 Let them praise the name of the LORD,
for his name alone is exalted;
his glory is above earth and heaven.
14 He has raised up a horn for his people,
praise for all his saints,
for the people of Israel who are near to him.
Praise the LORD!