sun 06-02 Terry was here yesterday and today visiting and working on the garden. Weeding, mulching, judicious pruning, planting of herbs and a red geranium by the mailbox like three other houses on the street. The bittersweet that had taken over the garden in back is gone. There is much empty space and a reclaimed planter that now has impatiens.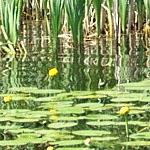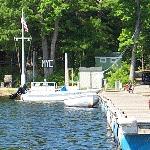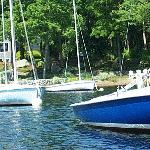 tue 06-04 Not much wind today. Paddled across the lake to the yacht club with Valerie.

thu 06-06 Some fog on the lake this morning.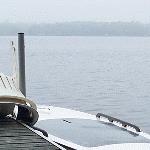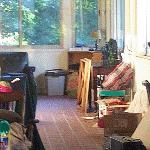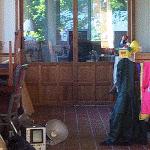 mon 06-17 I had been trying to get a picture of the porch and the sun was finally in the right position.

tue 06-18 Terry wanted a picture of me.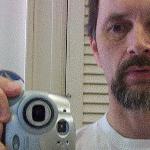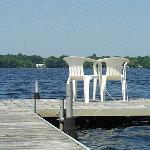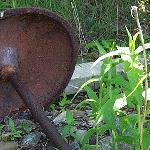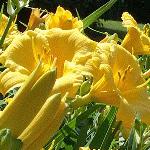 fri 06-21 The day lillies by the mailbox blossomed.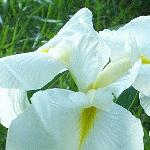 And a white iris by the far corner of the garage in the evening light.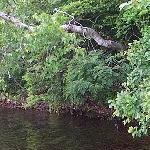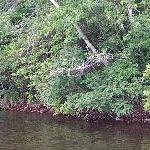 sat 06-23 The far side of the lake looks pretty much like this one.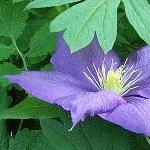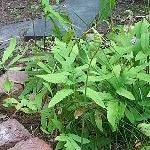 There is a large purple flower in the middle of all the little yellow ones under the cedar tree, and the fern I trampled getting out the bittersweet is recovering. Terry says the purple plant is clematis among the celandine poppies.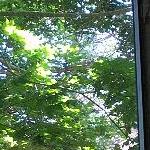 mon 06-24 There is sunlight through the maple leaves and some wind. Maybe I will go sailing.

tue 06-25 Sunny today, maybe a bit cooler, not much wind. Saw a heron flying away when I went down to the dock and could see the ring of ripples near the shore where it had been. Paddled across the lake to Rocky Cove. Dragonflies hovering and darting, tree swallows swooping low over the water, redwing blackbirds moving from rush to rush, another heron flying by overhead, two seagulls on the buoy, a blackbacked gull eyeing me from the rock, a few fish disappearing. No turtles today.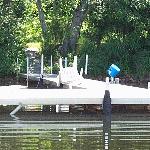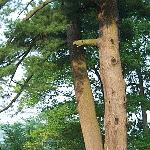 wed 06-26 The moon looked full and orange as I was dirving home from tai chi last night. The morning sunlight looks reddish on the big pine tree out front.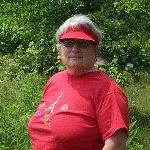 fri 06-28 On the way back from buying cinnamon coffee cake muffins at BJ's Valerie stopped so we could look at the water lillies. There were blue dragonflies and swans and canada geese with goslings.

sat 06-29 Walked through Fenway after tai chi this afternoon. There were people walking around and lying on the grass and playing basketball.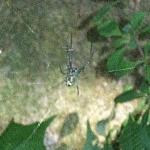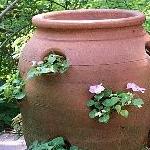 sun 06-30 The impatiens in the planter have grown.

may | home |